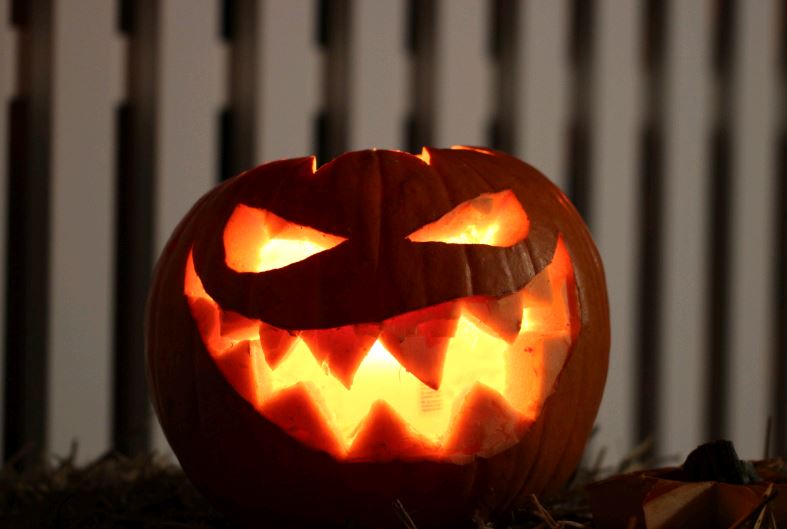 What makes October 31st so scary?
Michael, Jason and Freddy? Nope.
Ghosts, goblins and ghouls? Nada.
Insurance claims? BOO!
What makes Halloween so spooky for insurance policyholders?
And, what can you do to prevent potential nightmares?
Keep reading to find out!
Slips and Falls
Cute little trick-or-treaters coming to your front door for some candy may not seem like a risk, but a lot can happen along the way. Especially if their age or costume already makes mobility a little tricky, obstacles like decorations, toys, leaves, gardening tools, or burnt-out lawn lights could cause them to slip and fall. Make sure to clear your lawn and walkway of anything that may contribute to a slip-and-fall claim.
Even though it may be tempting to leave your exterior dark and scary on Halloween night, it is safer to be sure there is ample lighting so everyone visiting your house can get to and from the door safely. It is also wise to make sure any railings are secure and free of décor that may interfere with their efficacy. Your insurance policy will likely cover a fall, but it's best to prevent any injuries if you can by removing any contributing factors of your own.
It may be wise to avoid children walking to your door altogether by setting up at the end of your walkway or driveway with your bowls of candy.
Dog Bites
On a regular day, even the nicest dog could bite someone. Sometimes it's in an effort to protect their property or their family. Other times, it could be because they are sick or injured. On unusual days, the risk of a dog bite is far more likely because dogs can become confused or scared due to a deviation from their routine.
Halloween comes with lots of sights and sounds that are uncommon to a dog's everyday norm. Unknown guests and new smells and sounds can put a dog on edge. They may become increasingly uncomfortable and act out if they are aggravated by costumes, noise makers, strangers or children hugging them, sneaking up on them or screaming.
As a dog owner, you should keep your dog inside and secured away from the door if you have trick-or-treaters ringing the doorbell. Even so, accidents happen. If your dog does bite someone who visits your home on Halloween, you could be looking at a homeowner's claim. Make sure that your policy covers dogs and specifically your dog's breed.
Vandalism
Unfortunately, Halloween isn't all trick-or-treating and monster mash dance parties. It's also a common night for mischief. In fact, many adjusters see more claims come in on November 1st than any other day of the year.
To prevent vandalism to your personal property, protect or put away what you can. This would be a good time to keep your vehicle in the garage, in a well-lit area or where it's visible from a security camera. While scary Halloween decorations or lighting may get you in the spirit, steer away from "dark" and focus more on "spooky." You're less likely to be a victim of vandalism if your property doesn't have lots of shadows to hide in.
Fortunately, most policies cover vandalism from such things as eggs hitting your home, but policies and their coverages vary on other structures such as fences, sheds and detached garages. It's important to talk with your insurance agent ahead of time about these additional structures to make sure they are covered.
Fires
Candles and decorations can light up the night, but the fires they cause could light up your life (and not in a good way!). Avoid using real candles in your jack-o-lanterns and opt for battery-operated string lights instead. Also, for the decorations that must use electricity, never staple or nail through electrical wires and make sure any outdoor cords are plugged into ground-fault circuit interrupters.
Theft
Halloween night is a common night for theft, especially from the home if you're participating in evening festivities. How? If you are out front of your house giving candy to trick-or-treaters, you may not have thought to lock all your doors or pay attention to what's going on inside. A thief can sneak in and out the back right under your nose! If there are signs from the outside of your home to indicate you have children (i.e. a swing set in the backyard) and the home is clearly unoccupied, this would be an ideal time for a thief to assume you're out trick-or-treating with your children and then break in.
Our experienced agents are here to make sure your liability coverage is sufficient, should anything go awry on Halloween night (or any other night of the year, for that matter). Here's to a fright-free October 31st… at least in terms of insurance claims!